Now onto pictures and can you believe I still have more to process. I'm excited to share these 'cause it's only Alivia's second time sporting pigtails! I just want to eat her up. I know my mother and sister are especially going to love this post. I also wanted to link up to the various Wordless Wednesdays.
I'm linking up the photo below to Joshua's Photo Link Up over at Our Footprints on the World.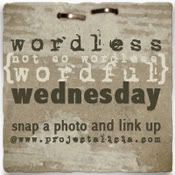 As a reminder, I recently added the Google Friend Connect gadget to my sidebar for those interested in joining the site. You just have to scroll down the page a little to see it. Additionally, I just published a Contact Me page to the tabs below my blog header where you can either email me or follow me on Facebook, PInterest, and/or Instagram! Happy Navigating!