A little treat for all my bloggy friends! Your very own customizable Instagram printable. It is an 8 x 10 .psd file for Photoshop or Photoshop Elements. Like all of my templates, it is very simple to use. Just navigate to the layers that read 'PLACE PHOTO HERE' (highlighted in red) and go to FILE / PLACE to insert an image from your computer files. Once inserted, all you have to do is resize your image to fit the frame. When you are ready to print, remember to use photo paper for best results! The paper I used for the print out in the images below was 8.5 x 11 HP Premium Plus Soft Gloss Photo Paper.
Other supplies needed:
1. Preferably a paper cutter, but scissors work
2. A pretty 8 x 10 frame to display your artwork. I think it looks great with a mat!
That's it! Talk about easy right?
FREE Customizable Instagram Printable
I also wanted to share more of my Easter pictures. It's been crazy trying to get through them all! I really narrowed it down. A lot. If you missed my last post which contains the first set of Easter pictures (A brief glimpse into Evernote), feel free to check it out!
Hope you'll come visit me on Monday to link up to Mom's Monday Mingle at The Naptime Review! I will be co-hosting which means you can link up right from my page. Please feel free to spread the word. More importantly before you decide to link up, be sure to catch up on the news about Blog Hops and Facebook! It really is a MUST READ! If you'd like to take a look at last week's hop, feel free to click on the button below: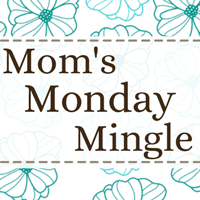 Additionally, if you haven't already noticed, I added another page to my site (you can find it right under my blog header or just click the link) called April 2013 Blog Hop! Please feel free to check it out and join in the fun!
HOPE EVERYONE HAS A GREAT WEEKEND!